This beloved star passed away on Sunday from heart failure, at Cedars-Sinai Medical Center in Los Angeles, after falling ill just a few days prior.
At just 83 years old, this actor had a 50+ year career in Hollywood, starring in dozens of shows and lighting up the screen. But fans probably know her best as Rosario Salazar, Karen Walker's long-time maid with a sassy personality and great charm.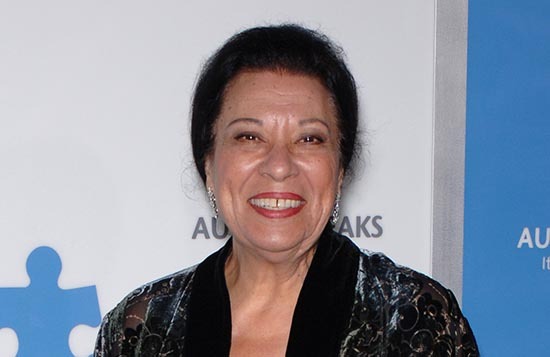 Morrison's role spanned 69 episodes of the comedy, which tackled hard-to-swallow topics with fun and ease. She was quoted as saying her role as Rosario was easily one of her favorites.
Rosario Salazar Wasn't Always a Recurring Role
According to information from the show, the role of Rosario, Karen's maid (Karen is played by Megan Mullally), wasn't originally set to be a reoccurring role. Instead, Rosario was only written into a single episode, 'Object of My Rejection'.
In the episode, Jack (played by Sean Hayes) agrees to marry Rosario so she can stay in the country. This was going to be the only time that fans saw Rosario.
But the reaction to the chemistry between Karen and Rosario was too much, and writers decided to include her in future episodes. Rosario had a snarky, flat way of delivering an insult to Karen that was just perfect.
Morrison Said Rosario Was Her "All-Time Favorite" Role
Shelley Morrison, who worked with major stars like Sally Fields in "The Flying Nun", had said in the past that her role as Rosario Salazar was one of her all-time favorite roles.
"Rosario is one of my all-time favorite characters. She reminds me a lot of my own mother, who loved animals and children, but hse would not suffer fools. It is very significant to me that we were able to show an older, Hispanic woman who is bright and smart and can hold her own."
Morrison was born in South Bronx, New York, and despite being born in the US, her first language was Spanish. Her description of her mother fits her role as Rosario, so it's no surprise she was able to convey the character so well.
Her husband of over 40 years, Walter Dominguez, said that Shelley not only thought that it was important to represent a strong Hispanic character, but she believed in what the show was doing, too.
"Shelley's greatest pride as an actress was in playing the indomitable Rosario, in a comedy series that furthered the cause of social equality and fairness for LGBTQ people … she believed the best way to change hearts and minds was through comedy."
The Will & Grace Cast Mourns their Loss
Shelley is survived by her husband, Walter, and their children. The cast of Will & Grace has gone on social media in the past 24 hours to mourn her passing. Eric McCormick, who plays Will, said that she was a "beautiful soul", and "her work as Rosario, season after season, was as nuanced and real as it was hysterical."
Debra Messing, who plays Grace, said "what a loss… our dear Rosario has passed on."
Mullally, who worked the most with Shelley, said on Twitter, "you accomplished wonderful things in this world. you will be missed."