Shopping for the perfect new swimsuit isn't always simple, but not to worry, we've got you covered.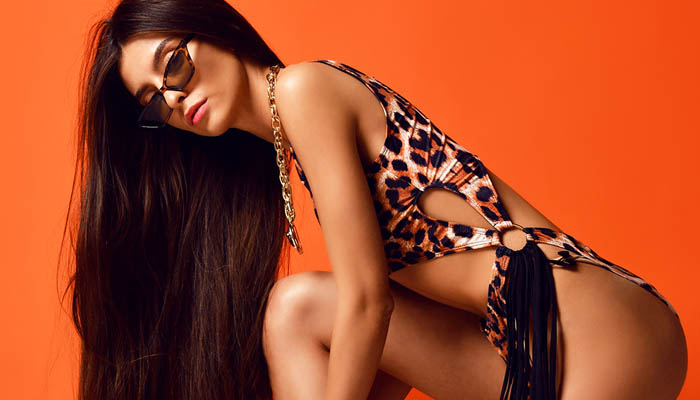 In in this article will let you know what the Insta-worthy looks will be for summer 2019, as we fill you in on the latest trends, styles, colors and brands.
1. Patterns:
With 80s-everything trending from fashion to movies, leopard, tiger, snakeskin and other animal prints will be big in 2019 in both one-piece and separates.
Other big trends will be wallpaper florals and polkadots. Solids and stripes will be a big thing for one- and two-piece suits, and especially rainbow and rainbow-like designs will be all the rage.
2. Colors:
Yellow, beige and bright orange are the top trending colors for 2019. However, as previously mentioned, rainbow and multicolor stripes, as well as floral designs, will also make up the color palette.
3. Styles:
One piece suits with cutouts will be in vogue this year, especially for curvy girls and plus sizes. Two-piece suits with cutouts featuring a sash will bring together a faux one-piece look. Cutouts with daring and juxtaposed angles will also create some spectacular designs.
Not only are the 80s back, but so are the 70s and 90s, and retro, especially textured, swimsuits will totally be a thing.
Another big style for 2019 will be high cut legs. And though it has been around for a couple of seasons now, it will really become prominent this year.
4. Textures, belts and bows:
Adding texture to swimsuit designs will be everywhere in 2019. Ruffles, ridges and fringes will bring 3D depth and accents, including embroidery. Also expect to see drawstrings, belts and hoops, netting, crochet, buttons and bows. The latter will be an especially strong fashion feature in 2019, and expect to see bow-style bikini tops. Bows won't be limited to swimsuits in 2019, but will be everywhere from clothing to accessories.
5. Brands:
Here are the top brands featuring cutting-edge swimwear designs for 2019: Laura Ashley, Norma Kamali, Aerie, Stella McCartney, Karla Colletto, Hollister, Ashley Graham, Aneome, Lisa Marie Fernandez, Zimmerman, Peony, Bomba, Matteau, Marysia, Ganni, Solid & Striped, Johanna Ortiz, Lacausa, Peek & Beau, Karla Colletto, ASOS, Mara Hoffman, Rixo London, Ganni