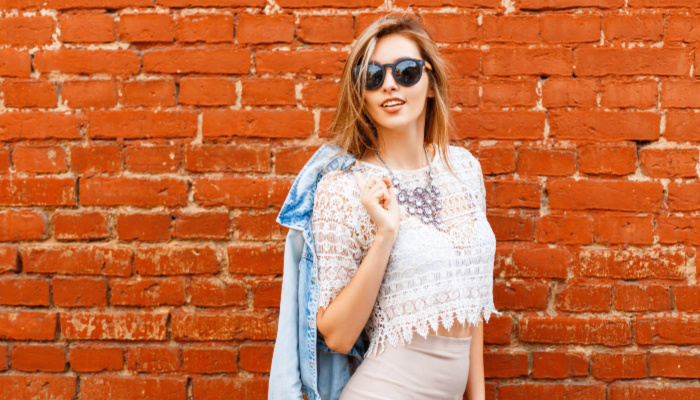 As summer gradually gives up its stranglehold, many of us are eagerly reaching for cozy sweaters and leather boots. But not so fast, fashionista! With a few style tips, your signature summer pieces can help you blend seamlessly into next season.
Skirts + Tights = Love
You know that perfect denim mini that makes your legs look fab? Keep wearing it for another couple of months by layering it with opaque tights and ankle boots! We love the look of a mini with a boxy, oversize blazer.
Vest Is Best
Don't ditch your cropped jeans quite yet. Take your typical super-casual summer outfit—tee, jeans, flats. Now shake it up with a bold vest and ankle boots instead. Do you see the possibilities?
The Classic White Tee
Is there anything this versatile shirt can't do? (Well, besides repelling red wine or pasta sauce stains.) Add an eye-catching, lightweight jacket over a white tee and jeans for fall. Swap out sandals for a killer pair of heels, and you're ready for a dressy-casual night on the town.
Think Outside the Jacket
Clearly, the secret to transitional styling is layering. But we usually think of layering warmer pieces over lighter summer clothes. You might be tempted to put on a blazer or sweater over a button-down—and there's nothing wrong with that. However, try layering your favorite oversized button-down shirt over a silky turtleneck. We love this paired with wide-legged trousers. Add some chunky jewelry and you've got a bold, artsy ensemble.
Flirty Summer Dresses
Your favorite midi-length summer dresses don't need to say farewell quite yet. Pair them with closed-toed shoes or boots instead of sandals and top them with a cropped denim jacket. If cropped jackets aren't your thing, go with a long, calf-length duster instead.
Business Meets Pleasure
During the summer, a perfectly faded band tee, artfully ripped jeans, and bold flats work together like a perfect symphony of style. But the time has come to transition to fall. Luckily, that doesn't mean you have to give up your t-shirt. Tuck it into a leather miniskirt and add a pair of tall boots. Accessorize with rocker-chic pieces such as a studded clutch and oversized sunglasses. Fierce!
Crop Top, Won't Stop
"Surely not," you may be thinking. Can you really wear a crop top in early autumn? This look is not for the faint of heart, but consider wearing a crop top with a sleekly tailored, bold-colored suit. We saw a lot of menswear-inspired suiting during New York Fashion Week, and we can't wait to try this style tip!