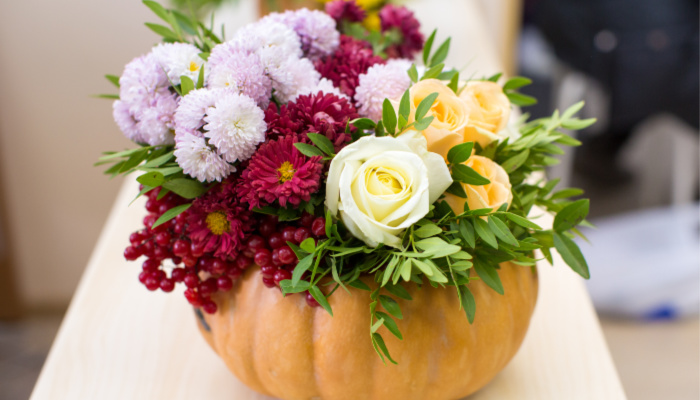 Nothing represents fall better than a pumpkin. The gourds are delicious and decorative, so incorporate them into your seasonal décor with these simple, stunning DIY pumpkin decorating ideas!
Cookie Cutter Carving
No templates or fiddly little saws required! Get a large pumpkin (or two) and hollow it out. Save those seeds for roasting! Now use cookie cutters to punch through the pumpkin. Moons and stars work great, as do bats or cats.
Marbled Minis
You'll need some white miniature pumpkins for this crafty hack, along with a large disposable foil pain (like you'd use to roast a turkey) filled with water and some marbling paints. Drip a little of the colors that you want to use, and then drag a toothpick through the surface of the water to create a marbled design. Now just dip the pumpkin, holding on to the stem, and roll it gently to coat the whole thing with paint.
Cross-Stitch Designs
This one is a little more involved, but the results are amazing. Scoop out a medium or large pumpkin, or use a fake one from a craft store. Punch out a grid of small holes with an awl or bamboo skewer. Now grab some acrylic or cotton yarn and a large needle, and cross stitch any design you like on the pumpkin.
Scrapbook Lettering
Okay, you want an easy DIY pumpkin decorating trick? Get a pumpkin and some lettering stickers or decals from the craft store. Spell out whatever message makes you giggle with the letters. Add additional stickers—maybe some acrylic jewels?—and have fun!
Studded Monogram
For an elegant pumpkin, try this surprisingly simple idea. Trace out your initial lightly in pencil on the surface of the pumpkin. Now push plain metal thumbtacks along the template you drew. The result looks really luxe considering how inexpensive it is!
Washi Tape
Oh, Washi tape. Is there anything you can't do? Break out your stash of tapes and go to town on some pumpkins. Vertical stripes, chevrons—the sky's the limit!
Gilding Wax and Stencils
Gilding wax—available at your local craft store—is pretty much magical. Grab some wax in silver, gold, or copper, a stencil brush, and a couple of pre-cut stencils. Tape the stencil on the surface of the pumpkin and then lightly buff the wax onto it until you get the coverage you want.
Pumpkin Planter or Vase
Here's another easy pumpkin decorating idea! Hollow out a pumpkin and then use it as a planter or vase. These look amazing as a centerpiece indoors or on your front porch or patio. Simply place a potted plant, such as a large mum, into the hole to use it as a planter. Or fill with water and cut flowers.
Glitter Tea Light Holder
Everything is better with glitter. Using mini pumpkins, carefully cut out a hole in the top just big enough to hold a tea light. Discard the stem. Now dip or paint the pumpkin with regular white craft glue and then sprinkle generously with glitter.
Marker Mandalas
Do you enjoy coloring books? Then you'll probably love this simple pumpkin decorating idea. Get a small pumpkin, some pastel or white acrylic paint, and Sharpie markers in the colors of your choice. Paint the pumpkin and let it dry. Starting with the area closest to the stem, doodle to your heart's content with the markers.