If you're looking to design or redesign your backyard space, here are some of the most trending and best backyard design ideas for summer 2019. We'll give you ideas to fit both small and large budgets.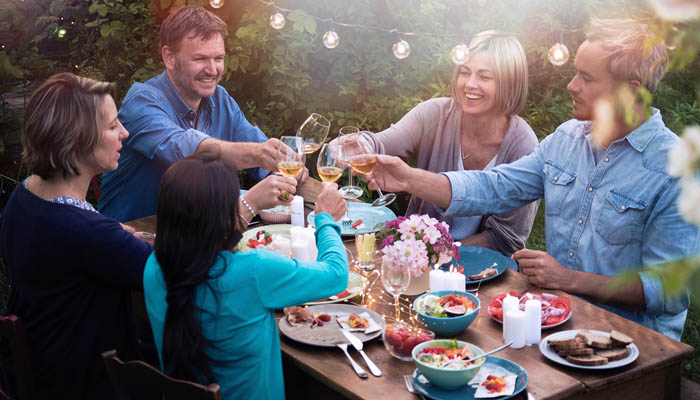 Outdoor trends for 2019
Especially after being cooped up all winter, as well as through an abnormally cool spring, people are looking for any excuse to get outdoors, to soak up the warmth and fresh air. This year's trends in outdoor spaces looks to move more typically indoor activities outdoors.
1. Outdoor dining
The big trend this year is moving dining outdoors. It can be as simple as a wooden picnic table, which are on sale at amazingly low prices at both big-box hardware stores Lowe's and Home Depot. These can be dressed up with tablecloths and comfortable, weather-resistant seating cushions. Certainly, for those with a bigger budget, fancier tables and chairs designed for outdoor use are abundant. Many outdoor dining tables also feature overhead shades or canopies, as well as lighting.
2. Outdoor bars
People love to cool off with cocktails during the summer and outdoor bars will be all the rage. From modest bamboo Tiki-style bars featuring racks for your wineglasses and supplies, to higher-end glass designs, there is something available for every budget. For the largest budgets, there is a big trend in creating covered, yet open, outdoor dining and bar areas featuring electrical outlets and working faucets (*see outdoor kitchens below).
3. Gazebos, Pergolas, and Arbors
Gazebos are also wildly popular, and come in a huge wide variety, featuring everything from pop up gazebos, to pre-made gazebos that are easy to assemble. For those with larger budgets, custom-built gazebos that stand up to weather conditions will give you years of pleasure and add value to your home.
Pergolas are also another way to create shaded outdoor spaces, especially for those on a budget. You can also find these in pre-made designs that will save you significantly over custom work.
Arbors are another strategy for creating shade, but with a less closed-in feel. The stylish looks of arbors will also add elegance, design and value to your property.
4. Decks
Thanks to the wide variety of materials available these days, especially laminate decking, decks are more affordable than ever. Composite materials offer longevity and low maintenance thanks to built-in weather-proofing, as well as, a variety of color stains that don't require yearly painting or water-proofing like its natural wood counterparts.
5. Outdoor kitchens
An outdoor kitchen sounds like a big budget item, but that's not always the case. There are a variety of inexpensive ways to provide plumbing and electrical to an overhead sheltered outdoor kitchen. Of course, those with the budget to do so can create outdoor kitchens that rival those indoors.