In what may be one of the most bizarre tweets the president has ever sent out, Sunday Donald Trump retweeted a video of a supporter shouting "White Power". The supporter, who drove a golf cart with a "Make America Great Again" sign, shouts the phrase during a June 14 pro-Trump rally. The rally, which took place in The Villages in Florida, received Trump's blessing.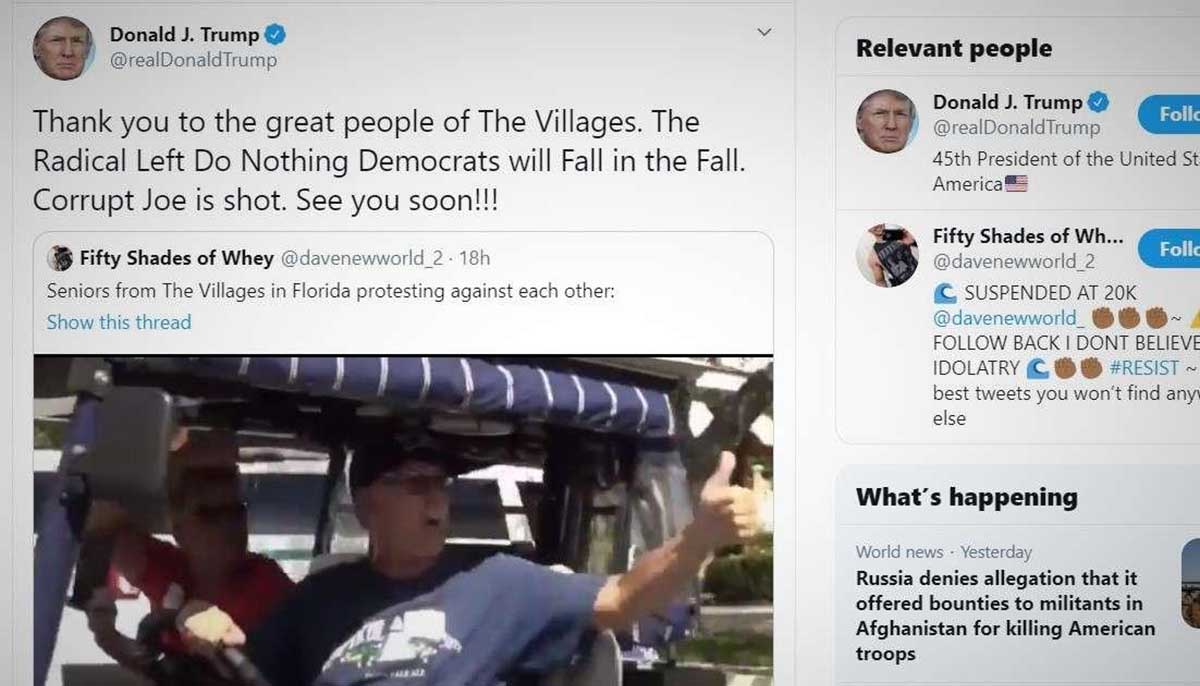 "Thank you to the great people of The Villages," Trump wrote in his retweet. He swiftly deleted the video three hours after posting it. The tweet sparked a maelstrom of backlash from critics online. Politicians from both major parties denounced the video. Tim Scott, a Republican, condemned the tweet as "offensive".
Politicians Denounce Trump's White Supremacist Tweet
"There's no question he should not have retweeted it, and he should just take it down," Tim Scott told reporters. Scott is the lone black Republican Senator. Typically, he is supportive of the president. However, in this case, his tone was harsh. He added, "I think it's indefensible". The backlash from Tim Scott was apparently not enough for him to order divorce papers from the GOP, however.
"We are in a battle for the very soul of the nation," tweeted former vice president Joe Biden, "And the president has picked a side". Biden is the presumptive Democratic nominee for the 2020 presidential election. In recent weeks, Biden has widened the public polling gap between himself and the incumbent. Trump's approval ratings are now at an all-time low, putting him in an uphill battle for reelection in November.
Video's Unusual Context
The video is strange both in and out of context. It comes from a June 14 pro-Trump rally at The Villages in Florida. The Villages, a sprawling retirement community in Central Florida, is roughly an hour's drive north of Orlando. The region is staunchly Republican, though the pro-Trump rally drew some protesters from the mostly-older residents.
The video that Trump retweeted shows a supporter of his from The Villages riding in a golf cart. The support's golf cart bears a Trump sign, and he is gesturing towards the protesters. During the video, protesters accuse him of being a white supremacist, to which he responds "White Power!".
The White House's deputy press secretary, Judd Deere, issued a statement claiming "[Trump] did not hear the one statement made on the video. What he did see was tremendous enthusiasm from his many supporters". This did little to calm critics, many of whom claim Trump would have been fully aware of the content of any video he posted to his Twitter account.