Just in time for the season of outdoor concerts and festivals, denim is what will be hottest fashion trend rocking Insta-worthy looks for summer 2019. Here are the top 5 denim trends you need to know!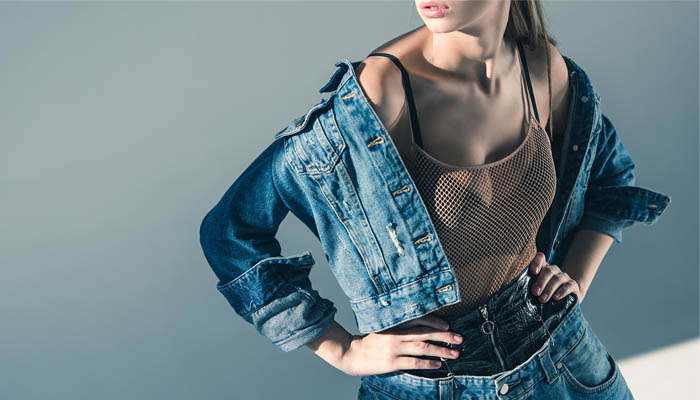 1. Distressed denim shorts
Just as full-length distressed jeans are a hot look, distressed denim shorts will be what's happening in summer 2019. It's a look that never goes away and has now become classic. Sure you can cut and rip your own, but look to designers for the de facto denim destruction designs.
2. White denim
White denim will be a thing in summer 2019. Expect to see it in a variety of lengths and styles. Not only is white denim cool and comfortable, but can also look classy and elegant. Whether you're sailing or hanging out in the VIP lounge, white denim will be the look that makes you stand out.
3. Bermuda denim shorts
Bermuda shorts are no longer the wardrobe of senior citizens. These Bermuda-style denim shorts are not your mother's Bermuda. While these jeans feature their requisite Bermuda length, the variety of styles, including fringe edges and distressed areas give them a whole new feel and cool-factor.
4. Matching denim top and bottoms
Another denim trend will be Jean shorts with a matching top. Granted, being we're talking summer, your top may be a fringe-edged, cropped, half-length jacket with the sleeves rolled up worn over a mid-drift tee – but the combo will look absolutely darling!
5. Flared high-rise denim
Shorts aren't the only look for summer 2019, but long pants as well. Flared jeans, what they called "bell bottoms" in the 60s and 70s made a big comeback over a decade ago. When they made their comeback, they featured a low-rise waist. But this time flares are circling back with a high-rise waist, bringing a fresh look. Cutaways in the flare and distressed textures will also be popular. Additionally, a favored accessory will be retro sneakers.