Are you hosting a large group for Thanksgiving this year? We turned to the experts to get recipes that will feed the masses without stretching your budget.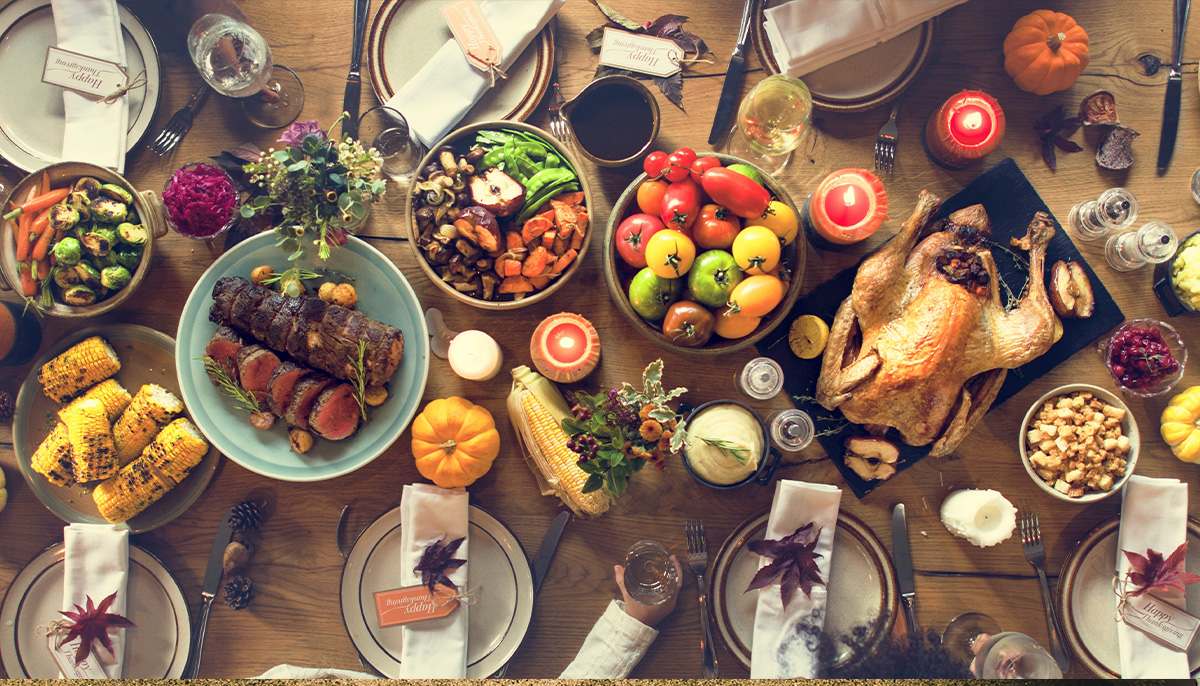 An Easy Appetizer
Robyn Flint, an insurance specialist at ExpertInsuranceReviews.com, shares her favorite dish: her mother-in-law's Stuffing Balls.
Brenda's Stuffing Balls  
3 boxes Stove Top Herb or Turkey Stuffing

1 bag of Herb Stuffing (optional depending on the size of family)
1 large yellow onion diced (more or less to taste)
4 celery stalks diced small (more or less to taste)
1 stick butter
4 cans Cream of Chicken soup (can add additional cans for a larger family)
3 boxes of chicken stock
Drippings from turkey (optional)

 
Preheat oven to 350.  Lightly spray two 9×13 bakers.  In a sauté pan, melt butter over medium heat. Add diced onion and celery; sauté until softened/translucent. Meanwhile, in a large mixing bowl, add all stuffing mix. Add sautéd onion, celery and butter to stuffing and stir to combine. If you have turkey drippings, add to stuffing mix a little at a time until stuffing mix is moist enough to form balls. If you don't have drippings, use 1 box of chicken stock, adding a little at a time. If you need more liquid, you can use ½ of another box of stock, or just use water.  
Form stuffing into balls about the size of a plum. Place stuffing balls into 9×13 bakers. They can touch, so you should be able to get 12-16 in each baker.  Place bakers in oven for 15 minutes. Meanwhile, in a large saucepan, heat Cream of Chicken soup over medium heat. Whisk in ½ box of stock and stir to the consistency of gravy. Add more stock in small increments until it reaches the desired consistency.   
Remove stuffing balls from oven and pour soup gravy over balls until each is coated (½ saucepan per baker). Place back in the oven to bake until gravy is bubbly and hot (about 25 minutes).  
A New Take on Thanksgiving Tradition
Try something different this holiday season by adding seafood to your table. Family and friends can indulge in a delicious Acorn Squash & Crab dish shared by Rima Kleiner, MS, RD and blogger at  Dish on Fish  this Thanksgiving. 
Seafood lovers can enjoy fresh acorn squash, oven-roasted with a savory seafood stuffing.  Equal parts easy and tasty, this meal makes a great addition to holiday menus. Get the full recipe here.
Onto the Important Stuff: Dessert
Tara Rylie, founder of RylieCakes, recommends an easy-to-make butternut squash bread pudding. This recipe is perfect for feeding the entire family. As an added bonus, this recipe is gluten-free, but definitely doesn't taste like it. Make this recipe and watch your family fall in love with your new holiday staple.
Whether feeding the masses or baking enough food to last you all week, the recipes above are sure to have you covered this Thanksgiving.