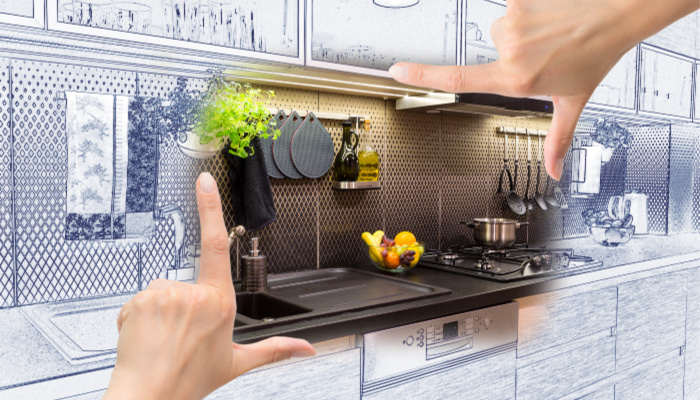 Any kind of renovation is a big undertaking, but the kitchen might just be the most challenging room in the house to tackle. If you've been thinking about a kitchen remodel, make sure that you have all in information you need before taking the plunge.
Reconsider Your Must-Have List
Do you consider granite or quartz countertops to be non-negotiable to your kitchen remodel plans? What about a trendy pot filler over the stove or a second sink? Some of these upgrades are worth the money—and some aren't. The question is how much value they'll add to your home in the long run.
Worth It: That second sink is probably worth the money. A lot of homebuyers are interested in having a second zone where they can wash up or prep away from the main dishwashing area.
Skip It: A wine fridge is not something anyone but the most dedicated wine drinker needs…and even then, it won't do much for the resale value of the house.
Worth It: If you're tearing out drawers, install newer models that extend fully and close softly. These drawer glides make it easier to find what you're looking for, even at the back of the drawer, and prevent potential damage to the woodwork.
Skip It: A pot filler sounds like a really cool thing to have. You can fill up your pasta pot right there on the stove! But it doesn't really do that much considering the cost of installing the pipes and faucet. You're better off investing in a second sink closer to the stove.
Save a Few Pennies
The best way to save money as you embark on a kitchen remodel is not to do it yourself. In fact, we'd advise against it. There's a lot of plumbing and wiring involved in a kitchen. No, the best way to save some cash without cutting corners is work with what you already have. Instead of completely changing the layout—and knocking down walls in the process—leave the major appliances where they are. That way you won't have to worry about moving the plumbing, wiring, or gas lines.
You can also save a lot of money by sticking with standard cabinets from a manufacturer instead of buying custom. Sure, it'd be nice to hand-crafted custom cabinets to suit your every whim, but factory-made products last longer and cost a fraction of the price.
Cheap But Awesome Upgrades
Want the most bang for your buck? Consider installing a few relatively easy and inexpensive upgrades that make a big impact. Under-the-cabinet lighting makes a huge difference. Seriously, you won't know how you lived without it.
Another fantastic upgrade is a lazy susan or pull-out shelving unit for that one cabinet where Tupperware goes to die. You know, the one that's basically a black hole of a blind corner? There are a lot of options that can make that space useful again!
Avoid This at All Costs
Finally, a word of caution for your kitchen remodel plans. Open shelving may sound like a good idea now, but wait until you find yourself constantly dusting your dishes! If you want a few open shelves near the sink or fridge, use them for cookbooks or display pieces. There's a reason we invented kitchen cabinets with doors on them, so keep your dishes safe and dust-free.