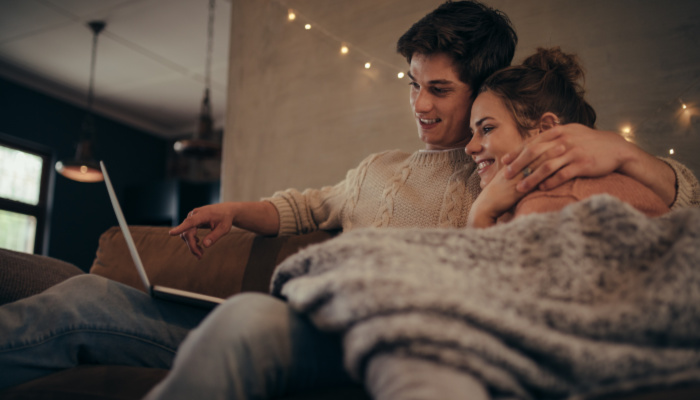 Hygge (say it like HOO-guh) is the Danish concept of being content, comfortable, and cozy. It's all about relaxing with the people you love—or curling up with a good book and a hot cup of cocoa. If your life is feeling hectic, then you need to get some hygge!
What Is Hygge?
It gets cold in Scandinavia. Real cold. During the snowy winter months, when the days are very short and people just want to stay inside, hygge is the perfect way to be. Maybe that's why, despite long winters with very little sunshine, Denmark is home to the happiest people on the planet.
But how can you capture that feeling without traveling to Denmark?
Plush Textures
You're gonna need some throw pillows, blankets, rugs, and sweaters. Everything should be deliciously touchable. Velvet and chenille are personal favorites around the TenthFloorLiving crew, but you can also go for natural wool or thick fake fur.
Lounge in Style
A lot of us live in athleisure, no need to apologize. But you might consider adding some loungewear to your wardrobe. That means stuff you only wear in the house, not to the grocery store (or the office, Karen). Soft slippers or knit socks are a must. A warm robe is great. So are flannel pajamas. Or you could get really fancy and go for silks or cashmere.
Candles and Fireplaces
Ideally, you have a fireplace in your home for maximum hygge. There's nothing more cozy than curling up in front of a crackling fire. But even if you don't have a fireplace, you can still invest in luxe scented candles. You'll get the soothing, warm light from the flame plus a delightful fragrance. Look for scents inspired by baked goods or nature.
Simplify
At the core of hygge is simplicity. Take pleasure in small, simple moments. A bubble bath with candles around the tub is hygge. A cup of sweet, spicy chai is hygge. You don't need to go out and buy a huge amount of new stuff to turn your home into a cozy retreat. You need to change your mindset and be more aware of the little joys throughout your day.
Although if you make one purchase, get a hot water bottle with a soft cover. No idea why these things haven't caught on in America, because they are bliss!
Better With Friends
Hygge is centered on spending time with friends and family. Sure, you can wrap up in a blanket and sip tea solo. But to get the full benefit, you also need to share your cozy nest with the people you care about. Invite folks over for a casual evening of cards and games. Enjoy mulled cider and have a conversation without everyone looking at their phones. You could bundle up in warm knits and head out to explore on a chilly day. Or—another popular option around here—invite people over to bake something together. And then eat it. That's hygge.