Does size really matter?
Apparently, to some people, it might. And now one woman's ring has sparked an online debate about love, money, and ring size. Of course, the ring in question is rather small.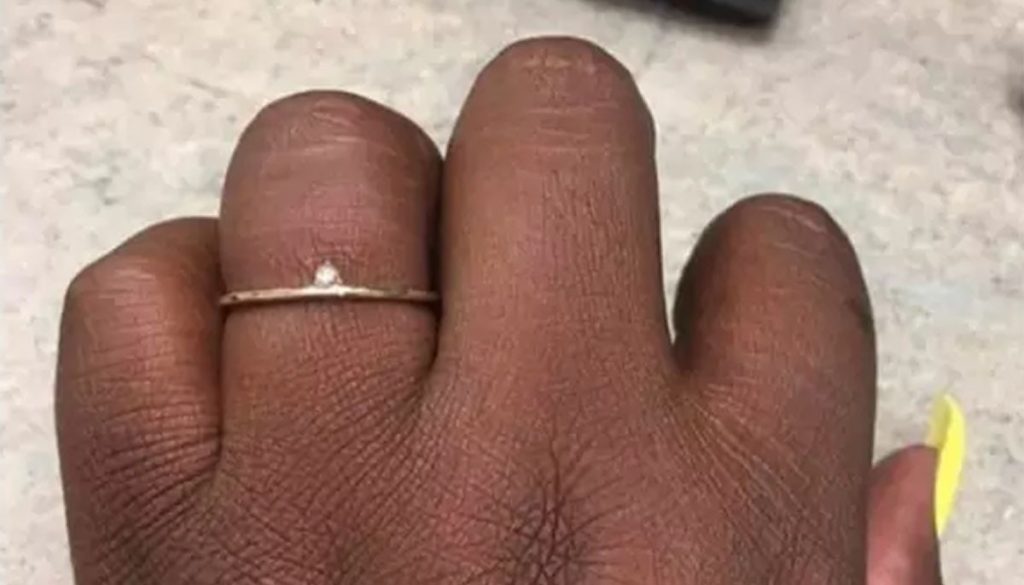 Teeny Tiny Ring
When the woman posted the picture of her ring online, it was immediately obvious that this was no multi-carat rock.
"We been togetha for 8 years & talkin bout gettin married for almost 3," she wrote.
The ring pictured above was apparently the ring her fiancé said he "saved up" to buy her.
Next, she questioned if she'd be "shady or materialistic" if she were to "tell dis mf ion want dis little a** ring?"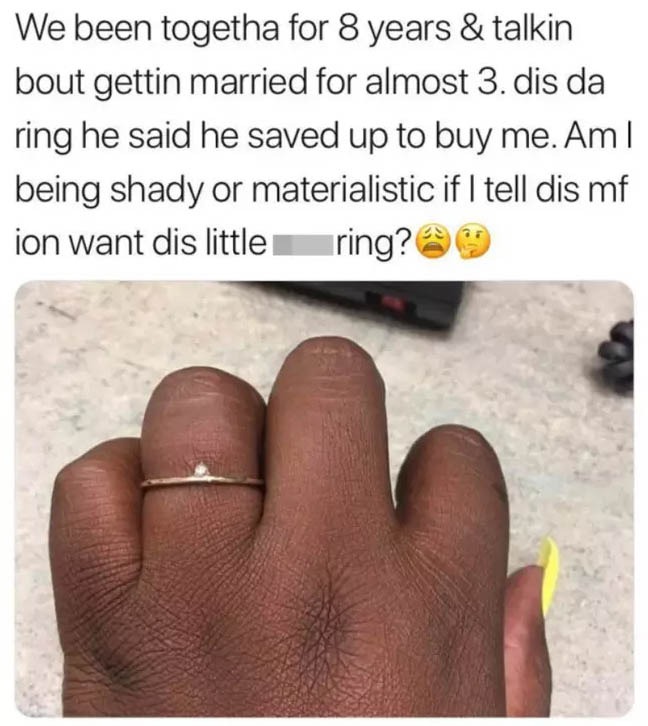 The Internet Answers
After Good Morning Britain brought the woman's post to the world's attention, the opinions began to roll in.
As one might expect, the responses to her query were all over the place. Some condemned the woman for being materialistic, and even "mean." However, others were completely on the woman's side.
"I wouldn't even try that on," wrote one commenter.
"Is she certain it's a diamond? Looks more like a sugar granule," joked another.
Musings aside, some took the dispute quite seriously and started discussing salary versus ring size. Others called her ungrateful, saying an engagement ring is about "the meaning behind it," not the size of the rock.
Buying an Engagement Ring
Over the years, there have been countless "rules" for buying engagement rings. For one, there's the age-old idea that a man should spend three month's gross salary on a ring. That, we feel, might be a bit crazy.
There are also variants – one month's salary or two month's salary – both of which may still not be really practical.
There's also the age-in-carats suggestion – e.g. if one's fiancé is 25, it should be a 2.5 carat ring. Of course, depending on your age, that could also get pretty crazy.
Many people argue about these so-called guidelines for ring buying. And, honestly, most of them do seem a bit farfetched. However, a ring is something the couple should agree upon so there aren't misplaced expectations.
What do you think about the minuscule stone in this woman's ring?