Will and Jada Pinkett Smith were so worried about their son that they staged an intervention for the 21-year-old musician and philanthropist.
Although Jaden has raised eyebrows before over his unconventional beliefs and rambling social media posts, this time his parents had seen enough.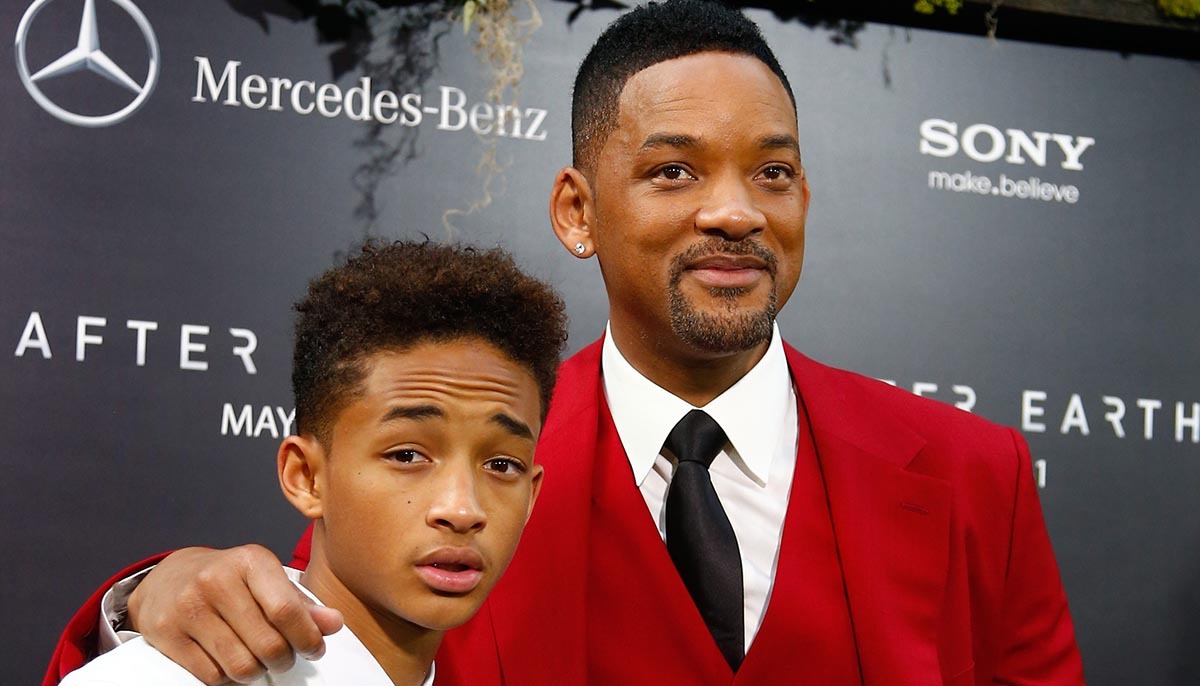 A Smith Family Meeting
On Jada's Facebook Watch series Red Table Talk, she revealed the moment that the family decided to step in to help Jaden. On the show's latest episode, the entire Smith family–including Will, Jaden and Willow, Will's son Trey from a previous relationship, and even Jada's mother–sat down to discuss the family's struggles.
In the video, Jada describes how Will called a mandatory emergency meeting at their home. In the playful opener of video, the family established a "circle of safety" by each of them dropping a bleeped out curse word. But then things turned serious.
Will told his family that while they were on vacation last month, he started eating a very unhealthy diet that began with a pile of muffins. He earned the family nickname "Pudge Muffin" as he ballooned to 225 and struggled with his blood pressure, and it made him think more seriously about his family's diet.
The roundtable discussion turned to nutrition and eating for optimum health. Then Jada revealed that Will wasn't the only family member who had needed help with his health.
Worries for Jaden Smith
"Will and I had a bit of an intervention with Jaden because he's a vegan now, but we realized he wasn't getting enough protein," said Jada. "So he was wasting away. He just looked drained, he was just depleted, he wasn't getting the nutrients."
Will agreed, describing how his son had started to look very ill. "He had the dark circles under his eyes, there was even a little grayness to his skin. We got really nervous, but you are definitely looking better now."
Jaden confessed that his diet had gotten offtrack and that during the period that made his family so worried, he was "eating like two meals a day, and maybe one. Maybe just that one big meal."
Shortly before his performance at Coachella, even Jaden had to admit that, despite his dedication to being vegan, his health was poor. "I was not doing good," he said. "I wasn't looking good, I wasn't feeling good, I wasn't sleeping."
While he was touring Australia, dizzy spells and nausea sent Jaden to the hospital. At that point, his sister Willow jumped in and said that she was tempted to fly down to Australia to be with him because she was so scared.
Jaden's Road to Recovery
Now, Jaden Smith is doing much better and is more mindful of his health. Jaden decided to give up his strict vegan diet and is eating a more balanced variety of foods. "I'll go vegan for a week or so but for the past year I've been vegetarian. But everything else you guys are saying is right."
Earlier this summer, Jaden launched a pop-up food truck that provided free vegan meals to 8,000 homeless people in Los Angeles. At the time, he said that the idea was "all about giving people what they deserve, healthy, vegan food for free."
I wonder if he's going to offer some vegetarian options the next time he rolls out the restaurant on wheels?