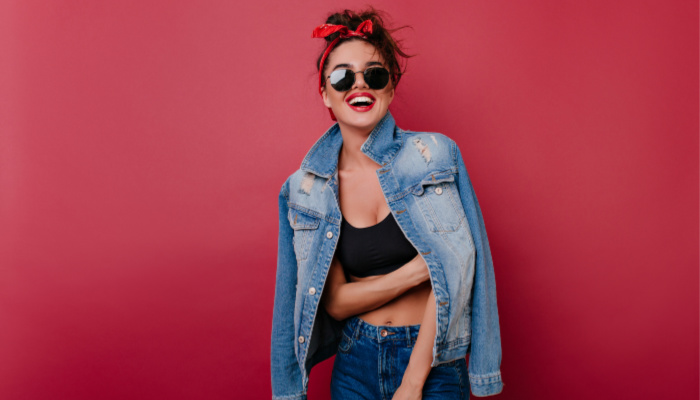 Denim might be the most versatile fabric on earth. You can dress it down, dress it up, wear it to a party or to clean your basement, tear holes in it in the name of fashion…the list goes on. Here's how we're wearing denim in fall of 2018. Have you pulled off any of these denim trends lately?
Button-Front and High-Waisted
We're digging the 80s-inspired fashion trends lately. To rock this one, look for sky-high jeans with buttons down the fly. You can go old-school with a light acid wash or keep it modern in black or slate gray.
If you're doing high-waisted denim, it's a good idea to add a little volume to the leg, so that your silhouette stays balanced. Trouser jeans look amazing with a dressier top and cute flats. We've also seen fashionistas do a cropped, slightly flared jean with boldly colored stilettos for a night on the town.
These high-waisted jeans are pretty much on the opposite end of the denim trends spectrum from the super-low-rise fashions of the early Aughts. Remember when Paris Hilton's jeans were so low you could clearly see her hipbones? We don't want none of that now.
Bold Stitching and Colored Denim
Want to make your jeans stand out without getting too wild with fit? Look for a pair with contrast stitching. Dark jeans with white stitching have an awesome 70s vibe, no matter what silhouette you choose. Light or medium washes with red stitching is also a classic.
Of course, since we live in the era of unicorn frappes and glitter everything, you can also find contrast stitching in purple, pink, aqua…basically, every color of the rainbow. If you want to get even more creative with your jeans, look for denim in eye-catching colors like cotton candy pink. One word of warning—don't get too matchy-matchy with your contrast stitching or colored denim. Let it be a quirky showstopper, not a too-perfect element of an overworked outfit.
Jumpsuits or Matching Outfits
Overalls had a moment, but denim jumpsuits have taken over. They're a little bit auto mechanic, a little bit flight suit. And a whole lot of fierce. Many of the looks right now are self-belted 70s-style with wide lapels. Jumpsuits are surprisingly comfortable and flattering on a lot of different body types, so try one on even if you think it won't work for you.
Hailey Baldwin—you know, Justin Bieber's fiancé—has been spotted wearing matching denim ensembles of jeans and cropped jackets. We really love how over-the-top her dark blue Versace look is, as well as the bright Kelly green number she wore recently while out with her beau. If you're going to wear logo denim or matching pieces, keep the rest of your styling simple and sporty.