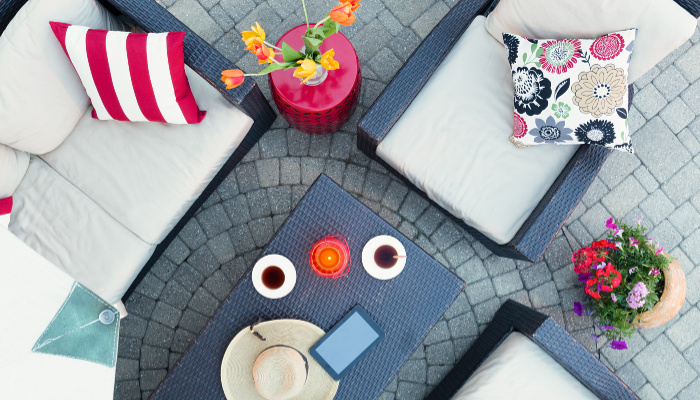 Fresh air, sunshine, and lots of growing plants. Don't you feel healthier just thinking about it? Even if you don't have access to a massive porch or backyard, you can create an al fresco living space that looks like something from a magazine. Reclaim a patio or balcony and turn it into the outdoor room of your dreams!
Privacy Is Key
To fully enjoy your outdoor room, you'll need some privacy. You don't want the neighbors all up in your business—unless they're invited, of course. You can frame your space with wooden lattice or a screen made from outdoor fabric.
If you want to use plants for privacy instead, try training quick-growing vines like hops or morning glories up a trellis or planting tall shrubs to create a living fence.
Think Vertical
In a small space, you need to use all the surfaces—especially the walls. Wall-hanging planters are a great way to create a vertical garden. One of our favorite DIY ideas is to use a wall-mounted shelf to make a mini-bar outdoors. You gotta have somewhere to mix your drinks, right?
Lots of Lights
Your outdoor room will look magical at night with plenty of twinkling lights. Solar power is the way to go so you don't have to worry about running electricity to the space. Candles add a lush, romantic ambience too—just remember to blow them out when you leave. Not that you'll ever want to go indoors again.
Touchable Textures
This space is your oasis, so make it as comfy as you want. While you'll need some durable furniture to withstand the weather, you jazz it up with throw pillows, blankets, and rugs that will be stored between use.
Go Bold or Go Home
Bright colors will make your space really pop. Consider a palette of neutrals with one or two bright accent colors that make you feel happy. Think turquoise, mint green, coral, or tangerine. Add potted perennials for instant color that will last all season.
Make Some Shade
To enjoy your outdoor room even during the hottest days of summer, you'll need some shade. A patio umbrella is a classic way to go, but you could install shutters instead.
Vintage Touches
Not only are vintage pieces gorgeous, but they're often affordable too. Look out for wrought-iron café tables, vintage planters, or metal gliders. You can leave them looking chippy or repaint for a modern update.
Are you feeling inspired yet? You'll be living the good life in no time!