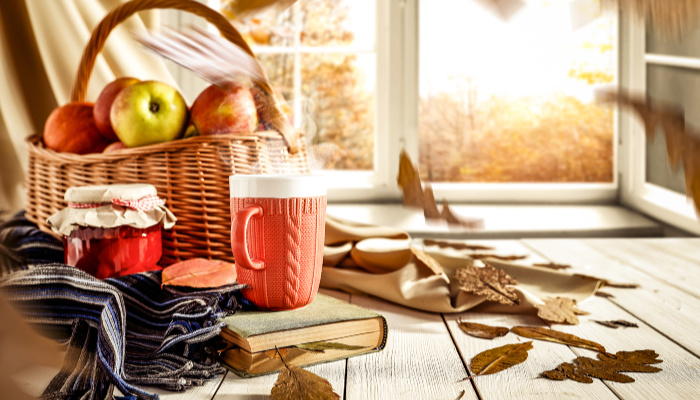 There are two types of people in this world: those who think fall is the best season…and those who are wrong. It's hard to remember during the dog days of August, but fall is a magical time of crisp leaves, bonfires, sweaters, pumpkins (and pumpkin spice lattes), apples, and pies. Bring that fall feeling indoors and create a cozy kitchen to enjoy all autumn long.
Wood & Copper Accents
Break out the copper Moscow Mule mugs and the wooden cheeseboard! It's time to bring some old-fashioned class into your cozy kitchen. Wood and copper accent pieces give the space a warm, inviting aura. If you don't have any copper, head out to your local thrift store—they'll usually have a piece or two of copper kitchen décor.
Rich Colors
An easy way to update your kitchen with the seasons is to change out your dishtowels and oven mitts. Fall is the time for rich jewel tones and natural, earthy colors. Teal, gold, eggplant, russet, spruce—whatever colors speak to you will work!
If you have an eat-in kitchen, you can also change out your tablecloths, napkins, and seat cushions for a fall color palette.
Fall Florals
People talk a lot about self-care, but what does it mean? For me, splurging on fresh flowers or herbs is a huge mood booster. For a simple fall floral that'll last all season, pick up some mini pots of colorful mums to place along your windowsill.
If you're hosting a party this fall, create a centerpiece using mums, gourds, and ornamental kale for a real showstopper.
Spice It Up
Nothing makes you feel more in the fall spirit than the scent of warm spices. Make your kitchen smell like the coziest place on earth with some scented candles with notes of chestnut, cinnamon, apple, or pumpkin. Not only do candles smell divine, but the flickering candlelight is relaxing too.
If you want to DIY it instead, try this simple scented simmer: in a large pot, combine 2 cups of water, about a tablespoon of whole cloves, a couple of cinnamon sticks, and some orange slices. Let the mixture simmer on the stovetop at lowest heat setting. Just don't forget it's there before the water all evaporates!
Bake Something in Your Cozy Kitchen!

Get something in the oven to celebrate the season. Fall is the perfect time for baking. The hot weather is finally over, making it bearable to actually turn on your oven. Homemade pumpkin pie is surprisingly easy—just follow the recipe on the can of pumpkin from the grocery store. Another tasty fall favorite is roasted pumpkin seeds. Save the seeds when you carve a pumpkin and lay them out in a single layer on a baking sheet lined with tinfoil or parchment. You can spice them up with just about anything—try a pinch of garam masala for an Indian twist or ras el hanout to capture the flavor of North Africa.