A new analysis of tree buying during the holidays has determined the exact specific days to get the best deal on a Christmas tree. If you haven't purchased your Christmas tree yet, you're in luck, you're about to find out how to save yourself some big bucks!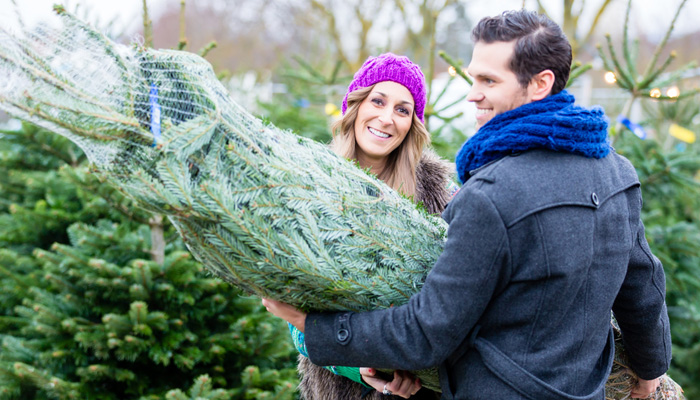 In a partnership with the National Christmas Tree Association, the credit card processing company Square did an analysis and some number crunching on over 200,000 sales from thousands of Christmas tree farms. Their study revealed the wide fluctuation of Christmas tree prices that occur during the holiday season. As a result, they were able to determine specific dates that historically have offered the best pricing on Christmas trees.
Keep in mind that during the 31 days of the holiday tree-buying season (November 24-December 24), the average cost of your typical decently-sized Christmas tree is about $73.
Now if your motivation isn't centered around saving money, but having a Christmas tree in your house for the longest amount of time – then go ahead and buy it in November. Just know that you are paying a premium for that luxury.
But if you want to save money… Here are some tips.
When not to buy if you want to save money
The first big shopping day for Christmas trees starts on Black Friday. If you choose to buy your tree on Black Friday or over that weekend, expect to pay an average of $77, and if you hold out for Cyber Monday – you'll pay even higher, upwards of $81!
Retailers aren't dumb and kind of assume many shoppers are naïve. They know people will flock on these "shopping holidays" thinking they're gonna score a great deal – but sometimes they are actually paying more on those days!
The next time to avoid purchasing entry is on the first three days of the month of December, where prices can also spike to an average above $81.
Prices spike again at the beginning of the second week of December, between December 8-11.
When to buy a Christmas tree to save money.
Prices on Christmas trees drop by about 22% a week or so before Christmas, between the dates of December 12-18. During this time, the average price dips between $59-68.
Finally, the absolute best prices occur in the last days before Christmas, between December 19-24 and especially on Christmas Eve, where the average tree price drops to about $47.
The best time to shop:
Going on a weekday is the best time to not only avoid crowds, but score deals, as the reduction in sales traffic will often be accompanied by a drop in prices, which rise again on the weekends.