The 'The Rock' costume that Kevin Hart wore wins Halloween this year for its sheer creativity and hilarity. Based on the infamous picture of a young Dwayne Johnson taken in the 1990's, the outfit incorporates some downright ridiculous accessories.
Why did Kevin Hart Pick a "The Rock" Costume?
In a video shared on Hart's Instagram, The Rock answers his doorbell to a quartet of trick-or-treating youngsters. He gives them all candy with a smile and sends them on their way. Moments later, he gets another visitor, this time Hart dressed in the absolutely ridiculous outfit.
The jeans, gold chain, fanny pack, silver bracelet and turtleneck top all work out to be a downright silly appearance, immediately harkening back to the goofy picture of Johnson. Johnson asks Hart why he's dressed like that, to which Hart replies "Because it's my costume.
All you gotta do is go to the costume store and say, 'Make me look stupid'."
Instagram kevinhart4real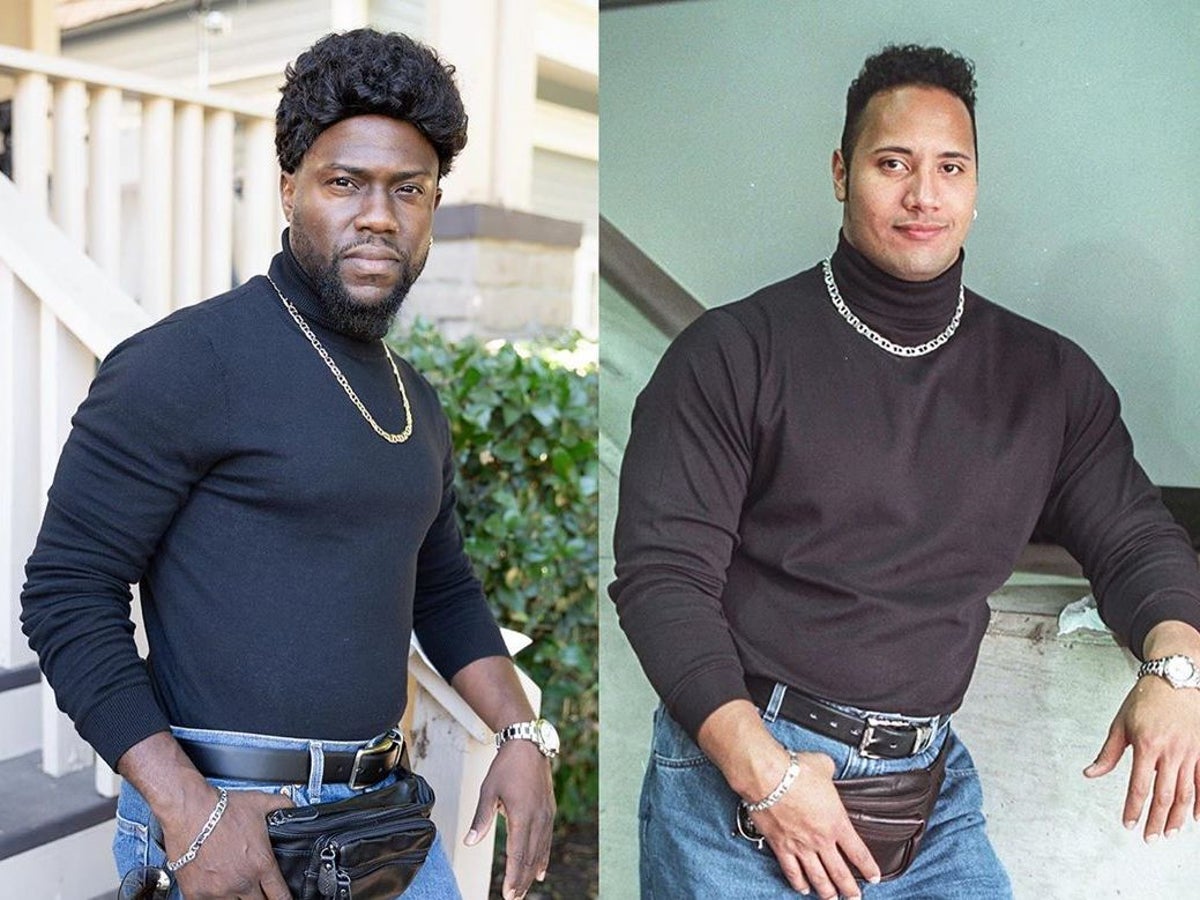 The Rock and Kevin Hart: Best Friends?
The video continues in a humorous fashion, with Hart emulating Johnson's pose from the picture. Johnson, in mock anger, tells his friend "don't stand like that, I don't look like that," and the two get into a very silly argument about candy.
The Rock jokingly tells Hart he doesn't "deserve" a king-sized bar of candy, instead offering him a fun-sized bar and telling him to "put that in your fanny pack." Hart calls out to the neighborhood kids, telling them that "Dwayne "The Rock" Johnson is giving out raisins and pennies!" after mocking Johnson's excessive Halloween decorations.
In reality, the two are close friends. In the Instagram comments on Hart's post, Johnson offered a message of good spirits. "You're an a**hole. But I still love you. And I'm still laughing #brotherlylove," the former pro wrestler wrote to his good friend.
Hart's Ongoing Recovery
Hart sustained major back injuries a few weeks ago following a car accident in which he was a passenger. He spoke out recently on the matter: "I swear, life is funny. Because some of the craziest things that happen to you end up being the thing that you needed most.
And in this case, I honestly feel like God basically told me to sit down," the comedian wrote on Instagram.